Photo Shotlist - User Guide
How to use Organizer Categories, Subcategories & Presets
From the CATEGORIES menu click the + button to create new Category. Type in a title and click SAVE. The new Category is now saved and will appear at the bottom of the list. To modify or select Categories, click on EDIT, then use the ON/OFF switch or red - button.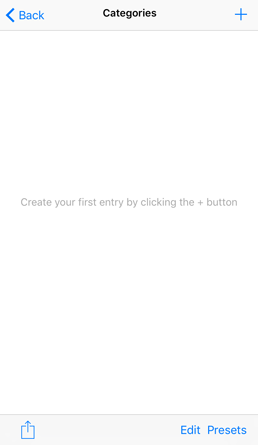 To add a Subcategory or Add Info, a Lighting Diagram or Images click on any CATEGORY NAME, then click CREATE SUBCATEGORY or ADD INFO/DIAGRAM/IMAGES button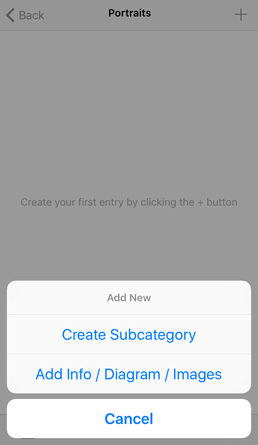 PRESETS are regularly used items or settings that you can apply to any shot or category. You can create presets of specific characteristics for future use. In ORGANIZER>CATEGORIES, click PRESETS. Use the + to create new preset. Type in the name of the preset and click SAVE.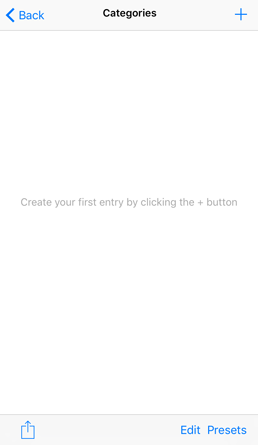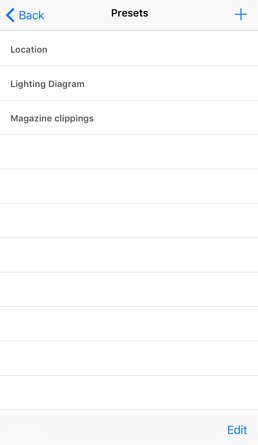 Click on any PRESET NAME to add values to the preset. Click EDIT to CHANGE ORDER (≡) or turn Presets ON or OFF. You can DELETE a Preset by clicking the red - button. Click SAVE when you are done.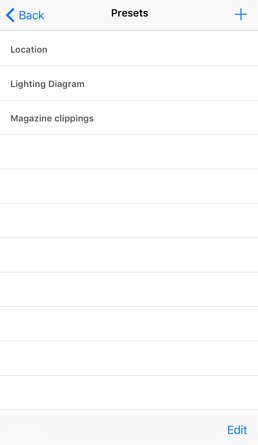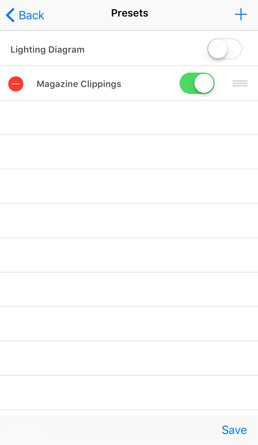 Click ADD SHOT INFO / DIAGRAM / IMAGES to view the Shot Description. To attach images, click IMAGE EXAMPLE. If there are no images installed, click the + button to add an image from the Camera or your Library (NOTE: to access your image library you must go to the main SETTINGS APP on your iOS device and enable Photo Shotlist Assist to access your photos in Settings > Privacy > Photos). To CROP the image to a preset square format (you cannot modify the crop), turn on the CROP slider switch BEFORE you select the image. Then click SAVE to save the image.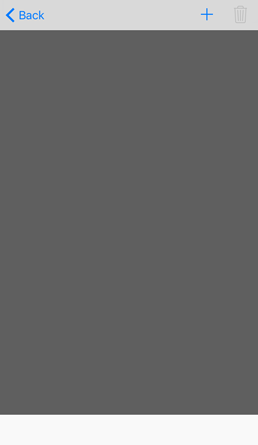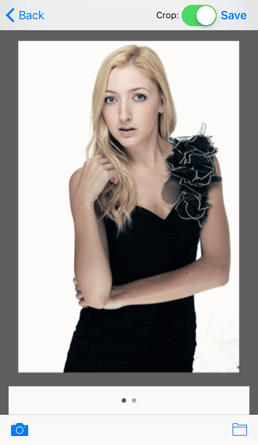 You can add multiple images to any Category or Subcategory. Simply follow the instructions above and then swipe to see each image (the dots at the bottom of the screen indicate the total number of images). When you return to the menu you will notice a camera icon indicating that an image is attached to the Category or Subcategory. Click the eye symbol to view all attached images.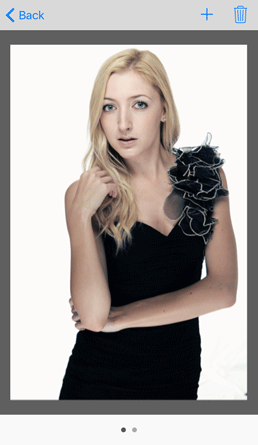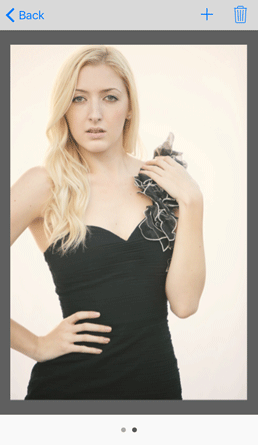 Click LIGHTING DIAGRAM from the Organizer card to add a Lighting Diagram. GPS data can be added by clicking LOCATION.